Review – Raven
The Raven is an excellent ship for any aspiring Caldari pilot. It has got missile and hybrid turret capabilities.
Though it is all around a good ship, it sometimes is just not fit for the job at hand. In a fleet, it works great, either taking turns tanking the enemies or dealing massive amounts of damage. That's no problem. But when you travel solo and want to PvP, that's a totally different story. The ship itself is shield tanked which means you would have to sacrifice some tank for the ability to hold down the target ship and keep them there.
The Raven is usually looked upon as the best ship to do level 4 missions based on these criteria; first is the low skill point amount that you can fit a good and specific tank and DPS setup onto the NPCs. Secondly the ship can deal quite a bit of damage with out trying to figure out the hit/miss rates of turrets. And lastly, there is little micro-management for all those people who are a bit lazier that others, since perma-setups are easy to fit.
This is how most missions usually go. While you are warping in, before the enemy starts shooting at you, you need to start your shield hardeners and try to get as much resists on the coming damage as possible. Then start with locking the cruisers and start shooting, boost your shields every once in a while after its down to 70%, and repeat this. At least until the capacitor runs dry. You must focus on the cruisers first since they are the ones that do the most damage.
Now that a few of them are gone, it is time to start hitting on the frigates with your drones, and launch those cruise missiles at the battleships. Send out your medium sized drones after the frigates and heavy drones against HACs (Heavy Attack Cruisers). The large cruise missiles will do very little damage to them because the frigates are so close and are orbiting around you very fast, just let your drones do the job and go keep hitting the battleships. Make sure you are still boosting your shield once it drops down to about 70%.
Now this is the ideal situation. Now if you don't have a good setup going on or are overwhelmed by all the ships, you often find yourself yelling at the computer for the ship to line up quicker and initiate warp while the armor is quickly taken away.
Still, the Raven is a ship that many Caldari pilots should look forward to flying. Don't worry about losing it because as long as you have it insured and fit it well!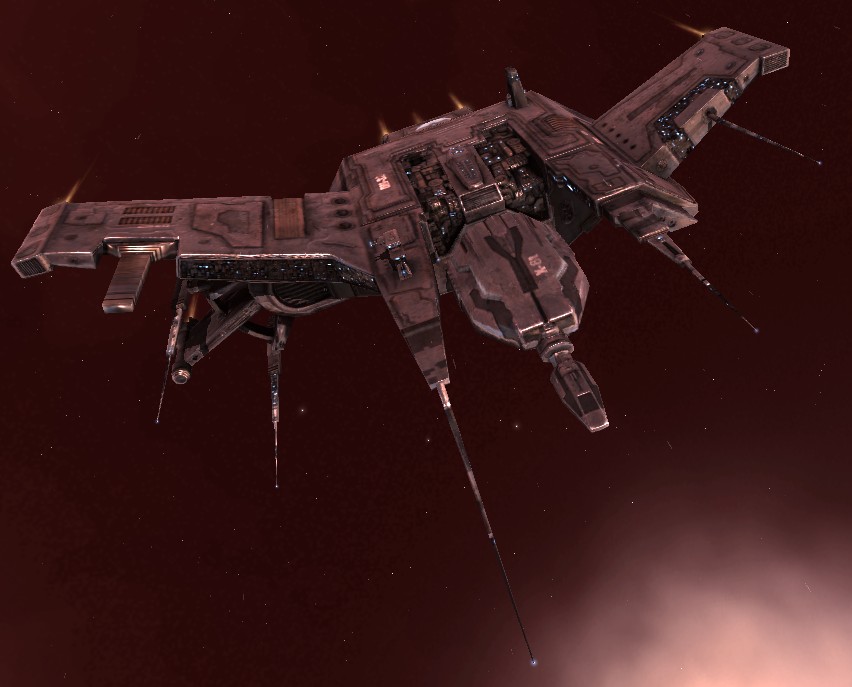 [expand title=Technical Information:]
5% bonus to cruise and siege launcher rate of fire
10% bonus to cruise missile and torpedo velocity
Default targeting range is 75 km with 7 locked targets
Velocity is 115 m/sec with 75 m3 of drone capacity
Shield hit points is 7500 and recharges in 2500 seconds
Power grid is at 9500MW, 700ft of CPU, and 400 calibration points
There are 8 high slots, 6 medium slots, 5 low slots, and 3 rig slots
6 slots for launchers and 4 for turrets[/expand]
Suggested Role: Soloing level 4 missions
[ratings]