The Hyperion is a tier 3 battleship, and one of the better ones too!
One of the first things I noticed about this baby was it's massive size.  When you fly this beside a Raven, it looks more than twice as big!
I think this ship is the peak of engineering from the Gallente engineers.  The massive tank that is able to be fitted along with the huge damage output, there is no other similar ship that will match it's raw power.  Almost anything is possible with this ship because of it's design.  The top 8 slots can be fitted for a variety of tasks and the 6 low slots can be used in a myriad of ways.  The only drawback is it's cost; 140 million for the ship alone, about 50 million than the Raven or the Megathron!
The bonus——————
From the range of fits available to be put on, a few stand out more than others.  The high slots can be fitted with 425mm railguns to extend the range to beyond 100km for sniping other ships.  To complement the 8 guns, 3 magnetic field stabilizers can be put on half of the low slots, along with tracking enhancers and a little bit of tank in case trouble comes along and a reactor control to fit all of the large guns.  Mid slots are mostly for capacitor regeneration and a MWD to keep the distance between the sniper and the victim, but a sensor booster with a targeting range script used will help achieve the locking range that we want for sniping.  One or two tracking computers with range scripts will also help, but if you are using large guns and T2 ammo, only 1 tracking computer is usually used.  As long as the guns can keep going and hitting and the ship is moving, the battle is in your favor!
For a lot of the mission runners this is an excellent ship to blow up those high bounty NPC battleships.  I usually try to setup my ship with 6 350mm railguns and 2 425mm railguns.  This weaponry setup allows for excellent battleship popping and the guns can still track cruiser sized ships while maintaining good range.  Especially useful for killing larger ships, but the frigates will outrun the tracking on the guns so drones are your friends!  If there are more cruisers than battlecruisers or battleships then I would fit out a whole rack of 8 350mm railguns as they have much better tracking while maintaining good damage.
The mid slots might seem easy to load out on a missioning-armor-tanking-battleship, but with the large guns installed, sometimes it is necessary to install a tracking computer with some tracking scripts in the cargo or use a webifier to any cruisers that get too close.  A target painter will help with hitting the smaller things far away, and then the rest of the rack with cap rechargers. Afterburners aren't really necessary in missions as you can adjust the range of the guns with different ammo or by using scripts and remember, it just sucks more cap from your tank. Of course, microwarpdrives are useless in deadspaces.  Sensor boosters or other arrays again aren't used much my mission runners since the NPC's don't jam you besides the Guristas.  Even then, there isn't much to worry. The targeting range on this ship sucks, but as you slowboat it to the objective you will get in range anyways, and the NPC's won't ever leave your range; unless its absolutely necessary.
Low slots are fitted with the regular armor tank.  I prefer more DPS over tank on most missions since they aren't much of a problem in an armor tank, especially when it is perma-run.
Drones, drones, drones! It's a Gallente ship and I almost forgot to include anything about drones! For PvP sniping situations, a EVE's dozen of 5 Warrior II's will make those tackers think twice before making their way over to you and another dozen of medium ECM drones in case you get scrambled or webbed. If you don't trust ECM drones, a nice group of medium armor repping bots will help your fleet mates along, that never hurts!  In missions, a few medium hammerheads and small hobgoblins will help take care of the enemies that get below your guns.  I keep one web drone in the bay for those really fast frigates or if I need even more tracking against a Sansha battleship or cruiser.
I was able to secure this ship at a fairly cheap price, 150 million with 2/3′s of the rigs I want already installed on it!  But if you can't find a good deal like this, then it will cost you about 140 million for the ship itself, then another 10 to 60 million depending on what type of rigs you wish to jury on to this baby.  Buying a good setup with T2 modules will add about 10 mil for the high rack, 4 mil for the mid slots, and 2 mil for the low slots.  Don't forget about the drones, about 7 or 8  mil for a handful of small and medium T2 drones.  Let me ring that up for you in Jita and the total comes to about… anywhere from 175 to 234 million?
Whoa! A hefty price, but I thing it's a great ship to blow missions through!
-
-
-
Stats:
-
Role: Fleet sniping, solo level 4 mission running, fleet DPS support
Setup:
Mission Runner
6 350mm Compressed Coil Gun
2 450mm Compressed Coil Gun
1 Target Painter I
1 Tracking Computer I, Tracking Script
3 Cap Recharger II
1 Large Armor Repairer II
2 Armor Hardener I
2 Magnetic Field Stabilizer II
1 Capacitor Power Relay II
The first Gallente ship I review, bet it's critical to lure you Caldari pilots over…
Hey just kidding, but seriously, this ship can be really well fitted for tank, gank, or an in between of both. I used a fairly old setup suggested by BattleClinic, plating, blasters, drones, etc; it is the standard Gallente setup. But this ship is very versatile, having 100m3 of drone space, you can throw anything from ECM to sentries to light scout drones in if you so wish. Your opponent is in for a surprise because they don't know what to expect. You may launch ECM's out, and when you get close enough, send out those Ogres!
I have seen suggested builds with spider tanking gangs, where the members fit a RAR (remote armor repairer) and have everyone watch listed. Whoever is receiving a lot of damage or is hurting will be remote repaired by 6 or 7 other ships. It is called spider tanking because like a spider web, it is hard to break when they are linked together. I personally prefer smaller gangs or going solo. In this case if you fit a RAR, it's useless, so a medium armor repairer is a must!
The high slots range from a mixture of nosferatus and neutralizers to medium blasters or railguns. Medium guns get bonuses, but at times if you want more tank and fit a 1600mm plate, light guns are the only way to go. If using a nos or neut setup, a few mediums will fit with some adjustment to the rest of the ship.
Medium fittings often include a 10mn afterburner because this ship is quite slow. A fellow corp mate described this ship as a snail, but I don't remember as to the speed or model. Back on topic, PvP modules, a web and scrambler, uses the last two slots. I have been quite resourceful in the past and invested in those webbing drones, they certainly are coming into handy now! Save a mid slot for a cap recharger, ECM, drone navigation, or whatever you want. The webbing drone also has a much better range than webbifiers too!
Lows will fit you a medium armor repairer, a pair of EANM (energized adaptive nano membrane), and either an 800mm or 1600mm plating depending on if you choose big guns or smaller guns or medium or light nos and neut. That little buffer should keep you alive for an additional 1 to 5 minutes depending on who you are fighting, and that's sometimes enough to last a little bit longer against that other guy.
Now on to the most important part of the ship, the drones! A lot of pilots will call this ship the baby whale, or the Mini-Domi in comparison to the Gallente battleship Dominix. Both are drone carriers (don't get confused with carriers and motherships) and both have similar characteristics, in the bonuses that they give out and their looks. Sporting a 100m3 drone bay means carrying 4 large hulled drones, 10 medium hull size drones, or 20 small hull sized drones. Ya I know you won't want to carry 20 Hobgoblins, but this simply means you have room to hold extra drones in case the first ones go pop, or an assortment of them to deal specific damage (though I ultimately believe Gallente drones out damage all others due to their damage multiplier) or to do a specific job.
Who needs a tank when you ECM the opponent? If you are in a fleet, blow the signature radius of these ships to the size of a moon so the battleships can one volley it. Neutralize it's capacitor, web them and keep them in place. What you want to do is up to you, just be creative and use your resources wisely.
There is another way to tank while still gank for quite a bit. Use 3 heavy, 2 medium, and 1 light armor repair drones while you fit medium sized guns, magnetic field stabilizers, EANMs, and the rest of the tackling stuff. Your opponent will be mystified on how your tanking as they usually have drones turned off in their overview…
I recently battled another corp mates passive Caracal and just dominated. He had a well built tank and good missiles, but my drones and guns he couldn't stand up to. While his shields sunk, at times it looked like my tank was failing, but is immediately repaired every few seconds but the trusty medium armor repairer. Yay a test battle is won!
Use your shield as a buffer while you approach the target, unleash your drones, and seize victory!
[expand title=Technical Specs:]
5% bonus to medium hybrid turret damage
10% bonus to drone hitpoints, damage and mining yield
Default targeting range is 52 km with 5 locked targets
Velocity is 170 m/sec with 100 m3 of drone capacity
Armor hitpoints is 1485
Capacitor amount is 1250 and recharges in 446.25 seconds
Power grid is at 675MW, 270ft of CPU, and 400 calibration points
There are 5 high slots, 3 medium slots, 4 low slots, and 3 rig slots
0 slots for launchers and 4 for turrets[/expand]
Suggested Role: Solo PvP fights
[ratings]
Rokh, the shiny expensive hybrid toy.
Amazing, yet you don't see it in service as much as some of the other battleships, like the Raven. Why? Well, there are several reasons:
1. It's shear expensiveness. The ship itself sells for about 110 million on market, about 20-30 million more than the Raven. Plus insurance and buying good fittings for it, that will in all put a 180-200 million ISK hole in your wallet. And since some people don't know how to save ships from death, they don't want to risk loosing their money.
2. It's a very skill intensive ship. To pilot this beast it effectively, a lot of skills are needed. They include many gunnery skills trained up to at least level 4, along with some shielding skills, engineering skills, and electronic skills up to at the lowest 3.
3. It's rails turn a lot of people away since most Caldarians like the traditional style of combat, which is hurling missiles. A majority of players trained up for heavy missiles, then cruise launchers because all we fly are Drakes, Ravens, Caracals, and the Kestrel frigate. These would be considered to be some of the more powerful ships to fly and easier to use. Velocity times flight time equals distance. With guns there are tracking speed, radial velocity, transversal velocity, radial velocity, velocity, signature radius, and finally you can figure out the gun's optimal range.
But through this all, why do some people still purchase this ship? Let me tell you. The ship itself is very strong once the battleship skill reaches 4 or 5. Then the built-in tank works very well at 20-25 plus percent; its like a free invulnerability field built in! The range bonus help the massive guns reach ranges of 150 to 200 kilometers where you can pick ships off.
With this in mind, it takes the enemy a while before they can actually come close enough and hit you. A good word of warning though, when some ships get very close (less than 10km), it is nearly impossible to hit them. That's when drones are essential, especially tech 2 drones because they do a lot more damage. Maybe fitting a nos on one of the high slots will dry off that pesky interceptor or frigate.
The tactic that I suggest with this ship is to first pick of and thin out the frigate fleet before they come too close and are orbiting too fast for your turrets to track or their transversal are too high to hit them for full damage with your guns. If you don't take them out fast enough and they scrambled then that's when things will go to hell. Make sure you focus fire on ships because each ship with 1 hitpoint does the same amount of damage and can still be as dangerous as a ship with 1000 hitpoints. Not only this but then it's easier to kill them as they are recieving more DPS and can not tank, boost, or repair as if you split the damage two or three ways.
Then after the frigates are taken out and come too close, throw your drones on them and start hitting the battleships with the target painters on them to do full damage. By the time that the battleships are taken down, your tank should be able to hold much better and then the drones are taken out too! Remember that whenever you can warp at 100km, do it, because put some iron charges in and this way you don't have to worry about getting hit, at least for a little while.
This ship definitely gives awe simply by its presence, especially in the some of the beginner systems, since it's rarely spotted. It you are the pilot of this ship, join a fleet with some corp members and just go blasting the enemy away. One thing, I wouldn't take this exotic ship through unfamiliar territories though, it's far too expensive for most people to throw away. Well, unless you are a multi-billionaire.
[expand title=Technical Information:]
10% large hybrid optimal range per level
5% shield resistance per level
Default targeting range is 90 km with 7 locked targets
Velocity is 110 m/sec with 50 m3 of drone capacity
Shield hit points is 8500 and recharges in 2500 seconds
Power grid is at 15000MW, 780ft of CPU, and 400 calibration points
There are 8 high slots, 6 medium slots, 5 low slots, and 3 rig slots
4 slots for launchers and 8 for turrets[/expand]
Suggested Role: Level 4 missions, solo or in a fleet
[ratings]
The Raven is an excellent ship for any aspiring Caldari pilot. It has got missile and hybrid turret capabilities.
Though it is all around a good ship, it sometimes is just not fit for the job at hand. In a fleet, it works great, either taking turns tanking the enemies or dealing massive amounts of damage. That's no problem. But when you travel solo and want to PvP, that's a totally different story. The ship itself is shield tanked which means you would have to sacrifice some tank for the ability to hold down the target ship and keep them there.
The Raven is usually looked upon as the best ship to do level 4 missions based on these criteria; first is the low skill point amount that you can fit a good and specific tank and DPS setup onto the NPCs. Secondly the ship can deal quite a bit of damage with out trying to figure out the hit/miss rates of turrets. And lastly, there is little micro-management for all those people who are a bit lazier that others, since perma-setups are easy to fit.
This is how most missions usually go. While you are warping in, before the enemy starts shooting at you, you need to start your shield hardeners and try to get as much resists on the coming damage as possible. Then start with locking the cruisers and start shooting, boost your shields every once in a while after its down to 70%, and repeat this. At least until the capacitor runs dry. You must focus on the cruisers first since they are the ones that do the most damage.
Now that a few of them are gone, it is time to start hitting on the frigates with your drones, and launch those cruise missiles at the battleships. Send out your medium sized drones after the frigates and heavy drones against HACs (Heavy Attack Cruisers). The large cruise missiles will do very little damage to them because the frigates are so close and are orbiting around you very fast, just let your drones do the job and go keep hitting the battleships. Make sure you are still boosting your shield once it drops down to about 70%.
Now this is the ideal situation. Now if you don't have a good setup going on or are overwhelmed by all the ships, you often find yourself yelling at the computer for the ship to line up quicker and initiate warp while the armor is quickly taken away.
Still, the Raven is a ship that many Caldari pilots should look forward to flying. Don't worry about losing it because as long as you have it insured and fit it well!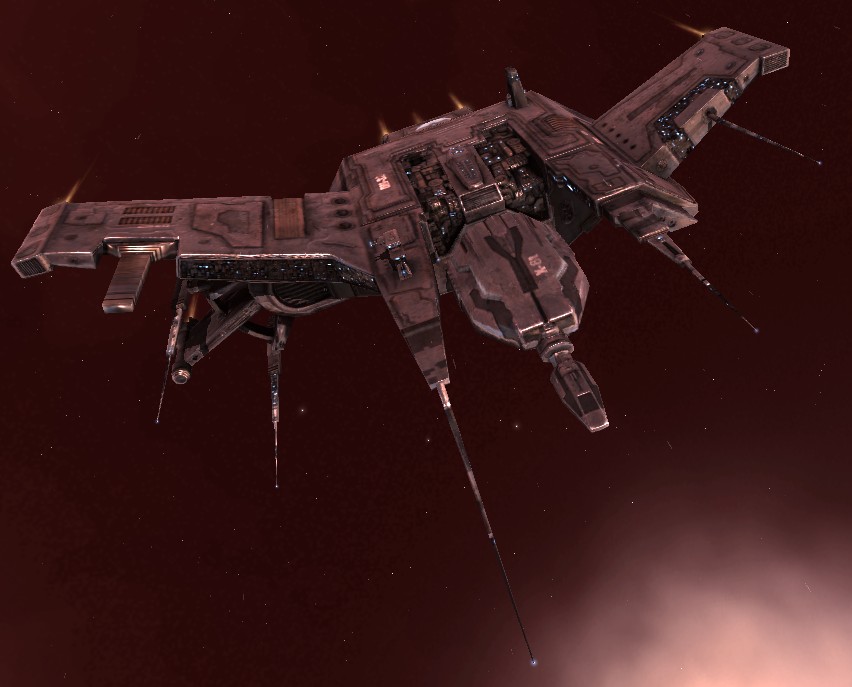 [expand title=Technical Information:]
5% bonus to cruise and siege launcher rate of fire
10% bonus to cruise missile and torpedo velocity
Default targeting range is 75 km with 7 locked targets
Velocity is 115 m/sec with 75 m3 of drone capacity
Shield hit points is 7500 and recharges in 2500 seconds
Power grid is at 9500MW, 700ft of CPU, and 400 calibration points
There are 8 high slots, 6 medium slots, 5 low slots, and 3 rig slots
6 slots for launchers and 4 for turrets[/expand]
Suggested Role: Soloing level 4 missions
[ratings]
Have you heard of the news lately? Or perhaps you have something to share on the topic? Here are some links to the news and speculation around EVE lately!
I personally don't see why there is a big fuss over this. I know Chribba is a very important person to the EVE community, but once again, it looks like if you whine about it enough and have a 30 page forum thread, you'll get what you want. I still see a way that this gives those people an advantage over us; they can not be suicide ganked, while the rest of us still can?
Now this is a topic I don't mind to talk about! Personally, I can't wait until ambulation arrives so we all can walk around and actually see how big our ships are. I remember seeing a picture back when I started to first play that a Minmatar Rifter is as big as a 747 jumbo jet. So imagine that, but against a Rokh or even if you see your carrier in the station. But a question I have is what about having a mothership or a titan around? Then it would be really awesome if you get to see a shuttle animation. Though some people complain that then it would take a bit of time for the animations to work and therefore take more time to switch between ships. And I agree to that, to a certain extent. Other people are saying that people will now just sit inside stations during war-declarations and its going to slow down their business. But I guess we will have to just wait and see…
These would be really nice to see. I mean I don't mind seeing a fleet of regular ravens flying around, but I would really love to see decked out ships with various colors. Just changing the color scheme of a ship would be good in my opinion.
Currently, another hot topic of discussion.  And if you have read my blog posts just a little bit back, I bought a nice little Crow interceptor.  This speed change thing isn't really working in my favor.  I would like to see how this will all work out; either "CCP caves and does not change anything on the topic of the speed adjustments" or "CCP steps up and strongly feels that this is a necessary change". I am not saying that I like being nerfed, but I am curious as to what the developers will say.
These models look pretty cool, but are way too expensive for my budget. If someone reading this does buy one, please tell me how it is. I would love to see some bigger pictures too!
A thank you to CrazyKinux for some of the links and info, he is the one I look for to catch up on EVE news.
It was hard to find more crew and to get those named and tech 2 modules, especially with the war going on against the Gallente. So no modules, or a good sized crew, it's time to research some more ship setups…
So after a bit of looking back at my posts and ship reviews, I decided to go more into detail about some of the ships. For an example, the Ferox, didn't get a whole lot written about it. And another, the Raven, I have discovered a much more stronger and efficient tank for all of those of you who love to do missions!
Stay tuned, and check out some of the ship reviews! I will also be expanding the assortment of ships to include Gallente ships, starting with some of the smaller frigates. Reviews will now also include it's
suggest role, tactic, and any other notes about it's setup. If you would like me to add any other technical information of any of the ships, just give me a shout out here. You may also find ship review navigation bars soon for the ease of access between each!
Most of the ships I review are just temporary ships, and most of the time I choose not to keep them. If you are interested in a certain ship or setup, I would be glad to talk to you in game and perhaps even contract it all to you!
I hope you continue to visit the website, read the blogs, share your thoughts in the chat, and participate in the surveys!
Thanks everyone.
Today is a big day, if not bigger than yesterday. My agent in the Caldari Navy is certainly on to something…
Hurry crew, we must complete refitting the ship by 18:00 hours to meet up with the rest of the support fleet! Hey you, foreman Henderson! I need you to run the fitting check list, and don't be afraid to check it twice as we have no room for errors. This is our chance to go big and earn big!

"Yes sir! Cruise missile launchers, 5 of 6 online; 3 of 5 loaded. Drone link augmentor, wired and synced…"

Please call all aboard captain Arnie! I will be in my office to finish all the paper works for this mission and finalize the contract with Arkiras Airilen so our deal holds tight. Set destination for the rendezvous point and send a request to Scotty for a priority two permission to undock.
As the smoke clears away from the hanger pit and the Raven is revealed, the crew hustles to get the final preparations completed. Some even stayed here for overtime making repairs or replacing the overheated ship modules. Captain Arnie is optimizing the engines and the hum of the 7 Magpulse Propulsion Jets slowly takes over all other sounds there is.
Now undocked and in warp to the Kamokor gate, I made an announcement to everyone on board. "…this deadspace complex is not much more dangerous than the one we faced last night, but you need to remember that all the ships from yesterday's support fleet are doing their individual assignments, just like us. So we need to be on top of our game! Intel provides detail of 3 Megathron classes battleships, 6 cruisers, and the amount of frigates in the 10′s range. This really is enemies abound… Good luck and may we fly safe."
Ironic, isn't everything?
We arrived at the hidden gate into an unauthorized Roden Shipyard in Caldari space. I contacted HQ one more time for a go and they have not swayed from their original statement; engage at your own risk. I thought how nice it would be for all to receive a nice bonus and was sure the battle hardened crew could handle what we were expecting…
"Captain Arnie, please warp us and engage on whoever fires on the Blacktide."
Twenty minutes later we had half of the cruisers done, more than 8 frigate kills registered on the drone logs, and the Megathron battleship into hull damage; he won't last long. Hahaha. Just as we finish off all of their cruisers the transmission technician picks up a signal from both of the Dominix classed ships signaling for help. She tried to intercept and scramble the waves, but it was too strong to jam and too long to break.
The clouds distorted.
3 battleships descend from the blinking astronomic anomaly along with 6 cruisers and then finally 4 other interceptors locked us down. Man I wished we had reinforcements at the snap of two fingers.
"Admiral, our shields are taking more damage than we can handle; the alpha damage alone from the neutron Megas would are spiking into the shield. We need to get rid of them first!"
"No! All drones lock and engage the navy interceptors! Now damn it! I also want all power diverted to maximum shield boosters, overload them if u must! Set all cruise launchers on tag B Thorax as soon as we can achieve a lock!" As this is happening, the shields are draining steadily. I figured it was the blaster Thoraxes doing most of the damage – note to self: train the flight crew to judge total hitpoints and total damage on view. One Thorax gone, one interceptor gone, still warp scrambled! And that Megathron we took down into hull is repairing his armor.
"Call for backup from the Corp, if not then local! Catalysm cruise on the damaged Megathron ASAP and keep hitting the interceptors with the drones! Arnie I want you to align to a station in half of the needed time and as soon as we aren't scrambled, get us out of here!"
Miscount.
All the interceptors are now gone, and we still aren't going… "put the metal to the pedal Arnie!" By now I was yelling hard, my throat dry. That's when I ran to the windows and saw I had missed 4 other frigates that could be warp scrambling us. "Awe jesus…"
"Shields 7%, armor taking damage… Shields gone, armor at 88%, 64%, 33%. You better get in your capsule admiral! This ship is going to blow. I'll overheat everything and hold them off, there's no point to fight a losing battle." The sirens sounding and panic growing, I unfortunately agreed, and right after I readied the egg, a violent blue explosion occurred and I warped off. Having a moment of silence I thought about what the whole crew and I have gone through in the past…
Captain Arnie, the best pilot I've had. His ability to tune ships for agility was of an guru and his tactics were often used to solve the ever occurring conundrums in New Eden. He could not afford a clone, but I was required to take a DNA sample of everybody on deck; least I could do was arrange that in the Navy for him. I'll see you tomorrow Arnie.
A stupid decision on my part.
It's time to sell sell sell. No insurance means nothing to fall back on. The new crew will be hard to find, harder than the modules, if we were want the most skilled and will be paid the least; and start running the new Raven with the minimalist crew requirements and at most basic modules.
But now I need some time to rest up; hoping that these missions we do are really helpful to the State.
Even before I got my Crow, lately it's just been a lot of cruising around in belts looking for Guristas and doing some small complexes that are not empty. I guess it's fun for the first bit while, but then it gets really redundant.
Then I tried to spice things up by flipping cans, waiting for can flippers, and taking wrecks hoping someone would engage in a 1 vs 1 battle with me. So far that hasn't been working out very well either.
Other than that, here is a small list of past events:
Had scouting help from Zoe for a hauling route through some low sec systems to retrieve my order of tritanium with my Badger Mark II.
Almost got a kill in Akiainavas (Moa) with my Crow but he got out of warp scramble range, which is 24km, for some reason. Almost had him, he was down to 20% hull. Then we were able to recruit a new corp mate who is an active miner.
Me and Zoe joined in on a mining operation with our good friends over in the Kul corporation and at the end, Saft surprised me and interrupted me when he brought in his cloaked Manticore.
Then our corp did some little PVP and had some fun flying our ships
The corp did a few missions for fun times.
Went and tried to gang flipped cans. We first tried to lure other people to us by dropping our own can with minerals in it. Not a lot of people tried to steal our containers so we stole from others. Very good operation for a first fleet flip.
Received another new corp mate
Back to level 4′s with Saft, Zoe, and Busta. Yay!
Ya, that's what I do, besides throwing up some sell orders and contracts.
I also wanted to share with you guys on how things have been going and to present to you some of the beautiful scenery of EVE online!
Jita:
Missioning:
Can Flipping:
Ratting
Mining:
So remember when I bought the super fast and super awesome Crow? It was also an interceptor class ship so I thought maybe the Raptor may be of some use to me. And after all the articles that I have read about other people's experiences with it, you would think I would have listened to them and not have bought the ship. Well I didn't.
There are several huge flaws with the overall basic design of the Raptor. It is a very close range ship to deal ginormous amounts damage – but this means you can and will be webbed by others. The amount of powergrid that is available isn't enough to fit the most juiciest guns – now you must sacrifice a low slot to fit a micro auxiliary power core instead of an overdrive. If you try to go long range your DPS drops extraordinarily, less than half of what you can do if you fly closer – which leaves you unable to kill the target. And either way, being close or far, you can't go fast enough to avoid the damage of missiles – therefore fitting a MWD will increase your signature radius too much and still be slow enough to be hit by larger missiles.
I had prospects of this ship out doing the damage of the Crow by 3 times, but somehow that just never happened, because halfway through the battle the Raptor would have half of it's shield eaten already. Then a minute later it's down to armor and time to haul ass.  Not enough time to kill the intended target. This is one ship that would truly fit under the category of the "expensive tackler".
One way to get some success is to hope the enemy doesn't have a web equipped. And for maximum effectiveness, use an afterburner to keep your signature radius down and speed some what up. Orbit at 4000m and fire all of your neutron blasters. At times you can gank the opponent before your shields rot out; then at other times it's seeing your ship falling short of it's goal; and then at other times it is just at an arms race with your foe.
It would be a wise decision not to purchase this spacecraft. If there was a no joke dog fight between the two Caldari interceptors, the Crow will tear the Raptor a black hole and send it back into the Jurassic period where maybe then, it will finally reign on top.
[expand title=Technical Specs:]
5% bonus to small hybrid turret damage
10% bonus to small hybrid turret optimal range
5% reduction in signature radius
5% bonus to warp scrambler and warp disruptor range
80% reduction in propulsion jamming systems activation cost
Tech 2 ship – Increased thermal damage resistance
Default targeting range is 25 km with 4 locked targets
Velocity is 415 m/sec with 0 m3 of drone capacity
Shield hitpoints is 493 and recharges in 625 seconds
Power grid is at 26MW, 150ft of CPU, and 400 calibration points
There are 4 high slots, 3 medium slots, 3 low slots, and 2 rig slots
2 slots for launchers and 3 for turrets[/expand]
[expand title=Blasters Setup:]
3 Light Neutron Blaster
1 Rocket Launcher
1 1mn Afterburner
1 Warp Scrambler
1 Cap Recharger
1 Micro Auxiliary Power Core
2 Overdrive Injector[/expand]
[ratings]
Thank you too all those that submitted their screenshots of EVE Online! There was many great and exceptional shots taken. They ranged from pilots amidst combat to pictures of some really exotic ships.
Here are the winners!
First place: Yea Mon
Second place: Evo Mannerheim
Third place: MasterOfEngeering
They each will receive the following:
1. 5 million ISK
2. Scorpion blueprint copy worth estimated 1 million ISK
3. Ferox blueprint copy worth 500 thousand ISK in game
Here is the pictures, respectively winning their places:
Thanks again to all those who participated! Keep a sharp eye out for these pictures to appear in the top bar soon!
This was of great success and I may host future contests for you, my readers and supporters!
Fly safe and remember to keep taking those screenshots when ever you can; because you have no clue when they may be of use to you!